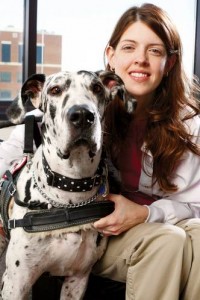 A Woman, A Dog
A Life Returned
By Rosalind Fournier, Photo by Chris Luker
For six years, Janet Skotnicki and her miniature schnauzer, Annabelle, were a volunteer team with the nonprofit organization Hand-in-Paw. Hand-in-Paw arranges for animals and their owners, once they are certified by the national Delta Society, to volunteer in various capacities such as visiting cancer patients in the hospital. Janet had trained Annabelle to be calm in hospital settings, affectionate toward the patients, and even perform tricks to entertain the kids.
All the while, Janet suffered from a condition of her own: a rare auto-immune disorder which would eventually affect her balance. For years she has worked as an R.N. at UAB Hospital. But in 2007 she noticed her balance was getting worse, so she transferred to an office setting within the hospital.
She also prepared to make a more dramatic change. She now needed help stabilizing herself as she walked and found that mobility walkers were not really doing the trick. One was so bulky she couldn't hoist it into her car by herself, "so she couldn't go anywhere without me," says her husband, Michael. "It really limited her freedom." Another walker was more lightweight but also flimsier and caused Janet to have to lean over it as she held on to walk. Moreover, the walkers were conspicuous. Because Janet is only 37, with no visible impairments, she got a lot of double-takes from strangers wondering why she needed one.
So she decided to try something else. Because of her experience with Hand-in-Paw, she had heard of dogs trained to help people who have trouble with balance and thought that might be the answer for her. "Once I started having to use a walker, I knew I really wanted a service dog instead," Janet says.
A First Try
She applied to organizations around the country that provide dogs trained for purposes such as this. Last August she finally got a call from one in Massachusetts: they had a Great Dane who seemed like a perfect fit for Janet. She and Michael got in the car and made the long drive to get the dog, named Heidi, and spent a week in which Janet and Heidi worked together to test Heidi's training and Janet's ability to walk with her. The good news: Janet could tell right away that walking with a dog helped tremendously with her balance. The bad: Heidi displayed so much nervousness and anxiety that Janet feared she might lunge or behave erratically in certain situations, which would pose a real danger.
They took Heidi to an animal-behaviorist veterinarian at Auburn University—Dr. Larry Myers, a nationally known veterinarian with experience working with service dogs. He offered to put her on an anti-anxiety drug, but "he said she should never have been matched with anyone as a service dog," Janet remembers. Heidi went back to the organization in Massachusetts, and Janet believes she is now someone's pet.
But Janet was still convinced it would work, if they could just find the right dog. This time, in October 2009, she simply wrote a letter to the Greater Birmingham Humane Society explaining the kind of dog she was looking for. She knew they wouldn't have one already trained as a service dog but felt that with the help of a trainer, she and Michael could teach him or her the skills needed.
Within just 10 days the society found one. Someone had brought in a dog, another Great Dane, with a naturally mild temperament—a quality that actually helped to save his life. The Skotnickis explain that because the dog, named Splash, had heartworm disease, he might otherwise have been put to sleep due to the high cost of treating heartworms. "But the agency director said she recognized that he was a really good Great Dane who seemed like he was going to make a good pet for someone," Janet says.
They brought Splash home and began the lengthy process of training him as a service dog. They interviewed several dog trainers, and finally settled on Kevin McDonald of McDonald Canine Academy.
"I cautioned them," says McDonald, who typically does standard behavioral training and training for security dogs, "that I wouldn't really know how much or how little he was going to be able to accomplish until I worked with him for several hours. But I did get a read from him initially that it might work, because he was really laid-back, not easily distracted and didn't wince or try to sit down when I put pressure on him, as Janet would be doing."
Training Splash
To pass the test, Splash had to show that he could be fully attentive to Janet and her movements and commands, always remaining right by her side and walking at her pace. When going up or down steps, he had to learn to stop at each one so she could brace herself against him. He had to become accustomed to unusual situations, such as riding in elevators.
As it turned out, Splash was a quick learner, and within a few months he was ready for his debut. So this January, with McDonald along, they took Splash to Organic Harvest Market and Café in Hoover, and he and Janet performed beautifully—passing the "Public Access Test" for service dogs.
Still, to be sure, Micheal took Splash to his own work for a couple of days, at the law firm of Haskell Slaughter, for another trial run. "People basically tried to trick him to come when he was supposed to stay, or purposely dropped things to see if he would be spooked, and he did really well. The firm was really positive about helping out, and of course everybody loved him."
Navigating the Legalities
Once the Skotnickis felt confident Splash was ready, Janet started taking him to work with her at UAB, after getting clearance to be allowed to use Splash in her work setting. As a lawyer, Michael was able to achieve this through the Americans with Disabilities Act, mandating her employer make this accommodation that Janet needs for her condition just as they would for someone with a wheelchair. (Though the only accommodation really needed was to move a desk to make room.)
Her office manager at UAB, Jennifer Combs, N.P., raves about Splash. "He's a very quiet, well-mannered, well behaved dog, and he listens to Janet's commands when she needs him to stay, sit or walk," Combs says. "As long as he has his harness on (Splash's signal that he is officially on the job) he means business. He is there for her. And when she takes the harness off, other people can pet him, and he is extremely sweet."
Now Splash has an official card designating him as a service dog, allowing him to accompany Janet just about anywhere—shopping, restaurants, and on all kinds of errands. She has noticed that her balance has actually improved by walking with Splash. And while Janet's position at UAB was eliminated in March, and she's looking for another part-time job in an office setting, for now she's just happy to have her freedom back.
"With Splash, I have the ability to come and go around town as I want, and it means so much to me," she says, pointing out that Splash, unlike a walker, can get in and out of the car by himself—a major logistical benefit. "And he's a lot more fun to hang around with," says Janet.
The only challenge they face in public is deterring people from talking to or petting Splash. As with all service dogs, Splash needs to remain focused on his job of helping to keep Janet steady, and attention from others could distract him. "A lot of people I come across already know that, but many don't," Janet notes. Another confusion, though it doesn't bother Janet, is that many people mistake Splash for a Dalmation due to his spotted markings, known as a Harlequin coat. "Kids sometimes call him a 'fire dog,'" Janet says with a laugh.
McDonald considers it a great success story. "You take an adult dog that was not purpose-bred and has an unknown background, combined with a trainer without expertise in this specific field—it's kind of crazy from all different angles," he says. "It probably shouldn't have worked out, but it did."
Michael is equally delighted. "This has worked out for the Humane Society, because they have an example of the good things they can do; it's worked out for Splash, because he has a new home and new purpose, and Janet gets the benefit from it as well, so it really works all the way around.
"Janet is a courageous young woman facing a hard illness and not giving into that," he continues. "And she's trying to be a pioneer by using this type of service dog that no one's seen in Birmingham."